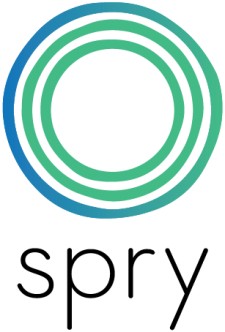 Palo Alto, California, May 2, 2017 (Newswire.com) - Spry Health — a leader in health management technologies and remote patient monitoring — announced today "Loop," a first-of-its-kind combination of clinical-grade wearable and disease management platform. Loop enhances timely care to chronically ill patients, with individualized analytics to improve patient outcomes, reduce hospitalization and decrease spending by healthcare organizations.
At the heart of Spry Health's mission is empowering better care — the right care at the right time — for patients who are coping with chronic conditions. Spry Health, incubated at the highly-selective Stanford-affiliated accelerator StartX, began in 2013 in the minds of founders Pierre-Jean "PJ" Cobut and Elad Ferber while Stanford business school students. In 2013, Business Insider named them among 17 Stanford business school graduates who will change the world.
"The body is a system in constant change — but nobody is monitoring the micro-changes in patients with chronic conditions."

Pierre-Jean Cobut, Co-Founder
Both founders have watched family members struggle with navigating the healthcare system with chronic illnesses: They came together with a mission to bring proactive care to chronically ill patients. "The body is a system in constant change — but nobody is monitoring the micro-changes in patients with chronic conditions," says Cobut. "We are building a solution to bridge gaps in traditional chronic care management."
By design, Spry Health developed Loop to be a catalyst for both better care and lower costs. "In a given year, over 28 million hospitalizations are attributed to chronically ill patients, resulting in an average bill of $37,300 per stay, with some patients winding up in the hospital three or more times per year," says Ferber. Empowering chronically ill patients is what drives the company's dedicated team of experts in advanced health informatics, biological signals analysis, and medical research.
The Loop wearable continuously and noninvasively collects vital signs to assess the patient's baseline and monitor how their condition evolves. Loop's analytics platform pinpoints subtle physiological changes and delivers relevant, actionable insights to healthcare organizations before new symptoms are noticeable to the patient. Healthcare organizations can then guide their most vulnerable members to the right care at the right time. The combination of an easy-to-use wearable with individualized analytics increases peace of mind and compliance for patients, improves their outcomes, and prevents costly hospitalizations.
Spry Health conducted "one of the more comprehensive pre-market evaluations of a digital medical device ever published," said Steve Steinhubl, MD, at Scripps Translational Science Institute. The evaluation had over 250 participants to prove the clinical equivalence of Loop against standards of care for blood pressure, heart rate, oxygen saturation, respiration, and CO2 monitoring. Spry Health has been submitted with the FDA and is seeking clearance for Loop by early 2018.
About Spry Health
Spry Health (www.spryhealth.com) develops transformative digital health solutions that enable patients to get the right care at the right time. The company creates a new channel of information from the most vulnerable patients through wearable technology. Spry Health provides health care organizations with analytics to allow for better care of their patients, decrease hospital admissions, and reduce spending.
###
For additional information, please contact Natacha Rousseau at (323) 352-6417 or email natacha@spryhealth.com
Source: Spry Health
Share: